Sister Lydia Langer, 83, died on January 11, 2014, at St. Francis Convent, Little Falls, Minn.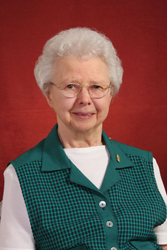 Sister Lydia was born on, July 8, 1930, in Bluffton, Minn. She was the second of nine children born to the late Joseph and Olivia (Zahler) Langer. She was accepted as a Franciscan Sister of Little Falls, Minnesota, on July 31, 1950. She made her first profession of vows on August 12, 1952, and final vows on August 12, 1955. She was a Franciscan Sister for 63 years.
Sister Lydia was a gentle and caring woman who graciously served the needs of others. She was known for her kindness and quiet sense of humor which often showed in the twinkle in her eyes. Sister Lydia was loved and respected by her students and those who ministered with her. Appreciating her call to religious life, she found strength, peace and joy in daily encountering God in prayer, contemplation and the celebration of the Eucharist.

During her life as a Franciscan, Sister Lydia served 37 years as an elementary school teacher which included six years as principal of St. Andrew's School in Elk River, Minn. She loved teaching first and second grades. Sister Lydia also served as Director of Hospitality for 11 years at St. Francis Convent. Her final active ministry was at St. Francis Music Center. Struggling with the effects of Parkinson's disease, she retired to Clare Residence.

Sister Lydia earned a bachelor's degree in elementary education from the College of St. Catherine, St. Paul, and also studied at St. Cloud State University, St. Cloud.

Her brother, Reinhold, preceded Sister Lydia in death. Survivors include siblings: Agnes Geiser, Bluffton; Bernadette King, Eagle Bend; Richard (Mary), Wadena; Irene (Ronald) Corbett, Surprise, Ariz.; Alfred (Barbara), Grand Forks, N. Dak.; Bernard (Zerrin), Beverly Hills, Fla.; Leo (Helen) Marshall; nieces, nephews and her Franciscan Community.

A Mass of Christian Burial will take place at St. Francis Convent on Saturday, January 18, 2014, at 11 a.m. Friends may call at St. Francis Convent on Friday, January 17, from 4-8:30 p.m., with a Franciscan prayer service at 7 p.m., and from 8:30 a.m. until the time of the funeral on January 18, at 11 a.m. Arrangements are by Emblom Brenny Funeral Service, Little Falls.

Donations to Franciscan Sisters Ministries preferred.