Kendra Sobania will play her violin in Sacred Heart Chapel on Sunday, December 29, 2013, at 2 p.m., as a celebration of her years playing violin in the Little Falls community before she goes to college next fall.

"My purpose in doing the recital is to share the talent with which God has entrusted me," she said. "I feel very blessed and want to share with others because music can inspire people in so many different ways. Having the recital at St. Francis Convent is important to me because the Franciscan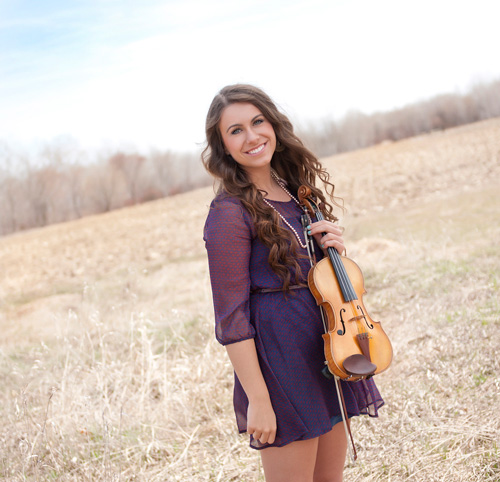 Sisters, St. Francis Music Center staff and my violin teacher, Celo V'ec, have supported me in so many ways, going above and beyond any of my expectations. I wouldn't be where I am today if it weren't for the wonderful people helping me."

Kendra is a student at Interlochen Arts Academy, a nine-month boarding school, in Michigan where she is spending her high school senior year taking academic classes and training in violin to prepare for attending a college music conservatory. One-fifth of the students at the Academy are international and the others come from all 50 states.

She has taken violin lessons from Celo V'ec at St. Francis Music Center for 12 years, from age five to 17. At age 14, Kendra cued the orchestra as concertmistress at the three-week Interlochen Summer Arts Camp in Michigan where she was surrounded by 2,500 talented musicians from 49 states and 45 countries. The Interlochen camp is the oldest and most prestigious summer arts program in the United States.

She will perform the Tchaikovsky Violin Concerto in D Major as well as other selections with V'ec and members of her musical family. "This event will be somewhat like a senior recital and it is our intent to make this a fun event," Kendra said. "It is special to perform in the Chapel because I grew up playing there. No matter where my life takes me, I will always remember my hometown which has given me so much." Cookies and refreshments will be served after the performance.

"Music is a way to express my feelings and a great way to connect with others," she said. "Music is a part of our family: my great-grandma played the piano, my uncle is a great violinist, my mom plays the piano and my siblings play violin, cello, guitar and piano. It's a tradition to play music at family gatherings; it's a great way to spend time together."
Photo by Lisa Sherwood