Sister Mary Corrine (Laura) Millner, 99, died on December 13, 2013, at St. Francis Convent, Little Falls, Minn.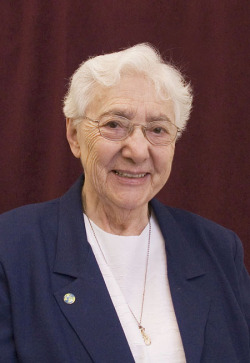 A Mass of Christian Burial will take place at St. Francis Convent on Monday, December 23, at 11 a.m. Friends may call at St. Francis Convent on Sunday, December 22, from 4-8:30 p.m., with a Franciscan prayer service at 7 p.m. and from 8:30 a.m. until the time of the funeral on December 23, at 11 a.m. Arrangements are by Emblom Brenny Funeral Chapel, Little Falls.

Sister Mary Corrine was born March 14, 1914, near Pierz, Minn. She was the sixth of ten children born to the late Math and Theresa (Gruber) Millner. She was accepted as a Franciscan Sister of Little Falls, Minnesota, on August 10, 1934. She made first profession of vows on August 12, 1936, and final vows on August 12, 1939. She was a Franciscan Sister for 79 years.

Sister Corrine enjoyed being active in both her ministry of caring for the sick and in her pastimes of knitting, crocheting and fishing. She was a good community person who was hospitable and responsive to the needs of others, generous with her time and talent in volunteering for various projects. Sister Corrine had a wonderful relationship with Sister Mary Kalis. When the two of them realized that they could no longer work full-time, they both applied for the same position at the hospital in Onamia. They were hired for the job and each served half-time.

Sister Corrine became a registered nurse at St. Francis School of Nursing, Breckenridge. She ministered in nursing for 46 years at St. Cloud, Perham, Parkers Prairie, Moorhead, Onamia and Little Falls, Minn.; Wahpeton, N. Dak.; Dodgeville, Milwaukee and Cudahy, Wisc. In her retirement years, she served in pastoral care at Little Falls. She was a frequent visitor and caregiver to her sister, Marceline, over the years. Sister Corrine had great trust in God's provident care. One of her special scripture quotes from Isaiah was "Fear not for I am with you."

Sister Corrine was preceded in death by siblings: Rose Boser, Regina Poser, Frank, Robert, Richard, Reinhart and Joseph. Survivors include her sisters Marceline, Pierz, and Evelyn Meyer, Pearl River, La.; sister-in-law Cecilia; nieces, nephews and her Franciscan Community.

Donations to Franciscan Sisters Ministries preferred.