Sister Mary Emily (Elizabeth) Donnay, 86, died on December 10, 2013, at St. Francis Convent, Little Falls, Minn.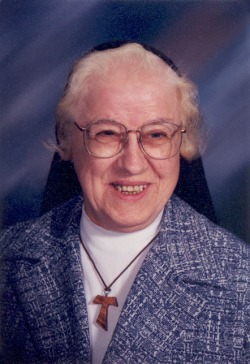 A Mass of Christian Burial will take place at St. Francis Convent on Thursday, December 19, at 1 p.m. Friends may call at St. Francis Convent on Wednesday, December 18, from 4-8:30 p.m., with a Franciscan Prayer Service at 7 p.m. and from 8 a.m. until the time of the funeral on December 19, at 1 p.m. Arrangements are by Emblom Brenny Funeral Chapel, Little Falls.

Sister Emily was born on December 14, 1926, in Watkins, Minn. She was the fourth of 10 children born to the late Jacob and Elizabeth Donnay. She was accepted as a Franciscan Sister of Little Falls, Minnesota, on August 12, 1945. She made her first profession of vows on August 12, 1947, and final vows on August 12, 1950. She was a Franciscan Sister for 68 years.

Sister Emily was a person who was always her best when she interacted with others. Her memory of the persons she met, as well as their family connections was truly remarkable. She had a ready smile and a deep love and respect for each person. She was a wonderful cook and baker known for her large, tasty sweet rolls. Many remember the famous peanut brittle she always made around Christmas time. In fact, Sister Emily began looking for raw peanuts already during the summer so that she would have enough to make the peanut brittle. She loved to crochet and write letters. She valued her time for prayer and reflecting on scripture.

Sister Emily ministered in food service, housekeeping, pastoral care, home visiting, caregiver to mentally challenged children and as nurse's aide. She served in St. Cloud, Elk River, Osakis, Breckenridge and Little Falls. For health reasons she retired to St. Francis Convent in 1989.

Sister Emily was preceded in death by her siblings: Gilbert, Alfred, Fr. Ray, Florian, Rita Molitor and Eugene. Survivors include siblings: Robert (Ethel), Watkins; Clara (Kenneth) Maurer, Big Lake, and Charles (Ann), St. Cloud; nieces, nephews and her Franciscan Community.

Donations to Franciscan Sisters Ministries preferred.