The FCV program has seen some changes within the past few weeks. In mid-November, we said good-bye to volunteer, Kelli Wilbert.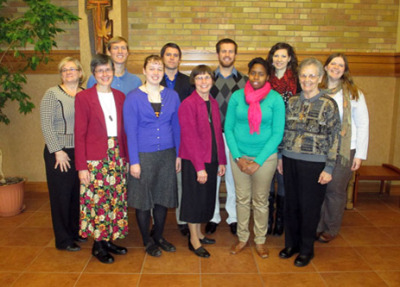 Kelli joined the program in August and decided to leave in November to live abroad and continue her educational journey. Kelli is deeply missed in community and at her service site, Lutheran Social Service. That same week, we welcomed two new volunteers, Alison Swoboda of Belle Prairie and Kristen Wall of Rochester. Alison and Kristen join the community of four remaining volunteers, Ian, Nneka, Nick and Augie, in embracing the pillars of Service, Community and Spirituality for the rest of this program year.
Alison and Kristen both come to FCV with international service experience. Alison did mission work in Mexico for several years prior to this year and Kristen was a volunteer in Hungary this past year. Both women are fluent in Spanish and are proving to be assets to their service sites in the first couple of weeks. Kristen serves at Casa Guadalupe Multicultural Communities in Cold Spring and Alison serves at two sites: Project HEAL through CentraCare and Project Care through Mid-MN Legal Aid.
On Sunday, November 24, all six volunteers came to Little Falls for a Commissioning Service at Mass. We thank you for your support and hospitality for our young adult volunteers!