Submitted by Elizabeth Rydeen
Pastoralist and hunter/gatherer communities are still prevalent in many regions of Tanzania.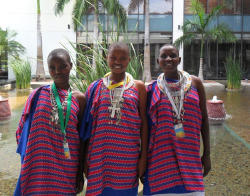 These indigenous groups find themselves marginalized economically, socially and politically. Most impacted are the women who live in a culture that gives them little standing in their community or in the decisions affecting their own lives. Women are devalued, and a lack of education keeps them from economic opportunity and from reaching their full potential. Maryknoll Sister Mary Vertucci runs the Emusoi Center for the Education of Pastoralist Girls which addresses the critical need for education among the indigenous pastoralist societies in nine regions of Tanzania.

Sister Tonie Rausch, who sponsored the OWM request, speaks very highly of Sister Mary and her work, saying that Emusoi Center has proved to be one of the most successful women's projects in Tanzania. "Sister Mary and her staff are responsible for housing and tutoring over 600 girls as they get their high school degrees and move on to leadership positions in their Maasai tribal life," she reports.

A $3,000 grant from the One-World Mission Grant Fund helped cover school fees and living expenses for five Maasai girls. Three of the girls' families have been affected by the AIDS epidemic. "The grant has supported five girls directly, but each girl will touch the lives of many more people. . . .Statistics show that with each year of secondary education, a girl will earn more money when she finishes school, will have fewer children . . . and will contribute greatly to the local community," Sister Mary said in her final report.