Deanna Boone, CRD
Sister Judine Cassidy was a legend within the walls of St. Francis High School,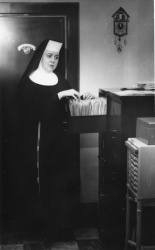 established and staffed by the Franciscan Sisters of Little Falls in 1922. Sister Judine died on October 25, 2013, at the age of 87.
To honor her legacy and commitment to education, the Franciscan Sisters have established the Sister Judine Cassidy Scholarship Fund, which will be used to support annual scholarships to two high school graduates, to students of St. Francis Music Center and to young adults participating in the Franciscan Community Volunteers program.
Sister Judine earned her diploma from St. Francis High School (SFHS) in 1943, graduated with a bachelor's degree from the College of St. Teresa in Winona and taught at SFHS from 1948-1958 before she became Assistant Principal from 1958-1960.
She served as Principal from 1960-1977 where she had a reputation for being stern yet fair. She guided the students, known affectionately as Frannies, during their formative years with a keen sense of which students needed extra attention—the student whose mother died during her freshman year, the two who cried every night from homesickness. All three would become Franciscan Sisters in due time.
When the school closed in 1977, Sister Judine and her long-time friend and colleague, Sister Elizabeth Weier, moved to New York to work at Bishop Ford Central Catholic High School in Brooklyn and, later, at Monsignor Farrell High School on Staten Island from 1988-2006.
Her wake and funeral brought together many alumnae who had come to know Sister Judine as a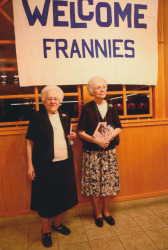 respected educator, a second mother and a friend. Beth Boyle-Medin said, "I skipped one day in four years to go to St. Cloud with friends from the public school. Stopped at the stoplight in Rice, I glanced into the next car and there was Sister Judine. She just waved and mouthed, 'Have fun.' It was a Thursday; she made me wait until 3:08 the next day and, over the PA, called me to the office. (It's a wonder the walls didn't cave in when everyone sucked air.) Sister tried so hard to be stern but kept looking for something in her bottom desk drawer and I could see her back shake from giggling. But she sat up and ordered me to clean those candle sticks on the Chapel's altar…one more time. I loved the woman. Always have, always will. What a phenomenal Catholic example."
In 2006, Sister Judine said, "Education is not so much imparting knowledge as it is assisting students to experience the joy of creative expression and knowledge, to reach their potential and to understand their responsibility to God, other people and the environment."
Sister Judine's brother, James Cassidy, relayed to the Franciscan Community, "When Rosemary (her baptismal name) left our family and became a Franciscan Sister, we thought for sure we were losing a member of our family, but we were wrong. Over the years, her wise counsel and continuing concern – and occasional reprimands when needed – continued apace. Surprisingly, she was always available for babysitting or to add much-needed energy to family chores. We certainly never lost a family member and God gained a faithful servant for some 70 years."
Sister Judine was an astute, vigorous example of the Franciscans' commitment to education.
In the early years when young women heard God's call for them to enter religious life, some left home with an eighth grade education. Few entered the convent with high school diplomas. As more members entered and ministries began to evolve, it soon became obvious to the leadership of the Franciscan Community that these girls needed an education and that the Convent needed educated members.
Education was the cornerstone for "doing what needed to be done," explained Sister Beatrice Eichten, FSLF Community Minister and President. Education was paramount for staffing the sisters' many ministries: an orphanage, hospitals, nursing homes, parish and diocesan grade schools and catechetical missions. "Throughout our history, dating back to 1891, we have seen the needs of the Little Falls community and other places where sisters lived. We responded to those needs, built a reputation for excellence, trained others to take over leadership and then bowed out to fulfill other needs."
Sister Elise Saggau, a former SFHS teacher, said, "In 1922 it became clear to the Franciscan Sisters that they needed to provide secondary education for their younger members. Sister Mary Antonio Kane, who had just completed her bachelor's degree at the College of St. Teresa in Winona, created a high school department in a tiny room on the third floor of the Motherhouse, now known as Hurrle Hall.
That building was named after Sister Teresa Hurrle who was Mother General at the time the high school was built. She is credited with saying, "If there is no pool, there will be no high school." And so it was.
"Four sisters completed their high school equivalencies by 1924 and, two years later, the department blossomed into a full-fledged boarding and day school for girls with four full-time faculty members – two sisters, one lay woman and one priest. St. Francis High School (SFHS) was fully accredited by the University of Minnesota in 1927."
In the midst of the Depression, the sisters built a new three-story building to house the high school. It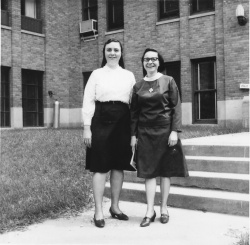 opened in the fall of 1931 and welcomed 100 resident students and an equal number of day students. Between 1922 and 1977, when the school closed as society's interest in boarding schools waned, 2,358 young women received a rigorous academic education in addition to the arts, music, drama and sports.
Sister Elise said, "The school also formed its students in the Gospel values of the Catholic and Franciscan tradition through prayer, liturgical life and well-regulated community living."
A 1972 grad, Maureen Phillips, said, "The world has lost a truly remarkable educator, mentor, visionary and blessed woman. What a legacy she has left! She was an educator in the truest sense of the word. She urged each young girl to find her voice and lead, she inspired a love of learning and she sent us off into the world with a clear sense of our responsibility to make this world a better place. True to that vision, she surrounded us with a community of faculty that lived and breathed those same wonderful values. She continues to live out her life mission through every Frannie each day."
To learn more about the Sister Judine Cassidy Scholarship Fund, contact Sister Cordy Korkowski, SFHS graduate and FSLF Director of Donor Relations, at 320-632-0603 or ckorkowski@fslf.org.
---
Sidebar:
The sisters' efforts in educating young women went beyond high school and expanded into the healthcare field. Highly trained medical personnel were needed to staff hospitals and nursing homes that the sisters operated and staffed. To meet this need, the Franciscan Sisters created St. Gabriel's School of Nursing in Little Falls, St. Ansgar School of Nursing and St. Ansgar School of X-Ray in Moorhead, Minn., Marquette School of Nursing in Milwaukee and St. Francis School of Nursing, St. Francis School of Medical Records and St. Francis School of X-Ray, all in Breckenridge, Minn.