Elizabeth Rydeen, CRD
Bishop Philip Anyolo of the Homa Bay Diocese traveled to Minnesota to attend the installation of Bishop Donald Kettler.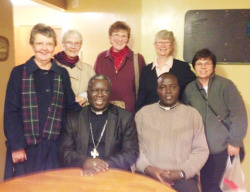 Among the celebrations and festivities was a gathering of people with ties to the Homa Bay/St. Cloud Diocese Partnership. Hosted by Beth Neville, director of the St. Cloud Mission Office, and her family, the gathering included people from throughout the St. Cloud Diocese: former delegates, members of the partnership leadership team (past and present), members of local parishes, others who have traveled to Kenya as well as the Franciscan Sisters.
Sisters Bea Eichten, Clara Stang, Elise Saggau, Karen Niedzielski and I were honored to be invited and enjoyed visiting with Bishop Anyolo, Father Abraham who was a student of Sister Karen's while she taught at the seminary in Kenya, and Father John Odera who serves the parishes in Bowlus, Upsala, Elmdale and St. Francis.

To be among a large group of people with a global, one-world perspective and a deep love for the people of Kenya was uplifting. Many of the relationships began in 1999 when Bishop John Kinney and Father Bill Vos of the St. Cloud Mission Office initiated a partnership between the dioceses in St. Cloud and Homa Bay under the auspices of Catholic Relief Services. The partnership at the diocesan level set the stage for the Franciscan Sisters of Little Falls to create a relationship with the Franciscan Sisters of St. Joseph – Asumbi, the only Franciscan congregation of women religious in the Homa Bay Diocese.

The first delegation to Kenya took place in 2000 with 17 delegates from the St. Cloud Diocese. In 2004 Sisters Karen Niedzielski and Anita Jennissen traveled with the delegation to begin their ministry in Kenya. Sister Clara Stang joined them as their minister and as a member of the partnership leadership team. In 2007 and 2009 Sister Elise Saggau spent time in Kenya helping establish the Franciscan Institute. Sister Michelle L'Allier and I traveled to Kenya in 2010 to learn more about the ministries of the Franciscan Sisters of St. Joseph and to help set up a development office. Sister Michelle returned to Kenya to work with the FSJs in developing a spiritual renewal program.