Submitted by Sister Bea Eichten
The Vespers service on Wednesday, November 6, was a lovely prayer service with a full cathedral.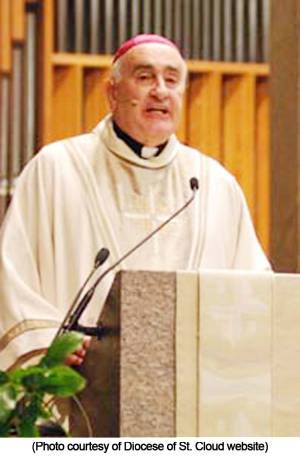 Some of us were able to be present—Hopefully some of you were able to watch it as it was streamed live on television. Standing with the other Major Superiors, I offered a welcome on behalf of the Religious Congregations in the Diocese.

The installation service was also prayerful, with all the ritual that goes with installation. Bishop Kettler started his homily by referencing the sexual abuse in the Fairbanks Diocese by clergy and church ministers and the resulting bankruptcy. His message was that people are in need of healing and that is the task of the church—healing and reconciliation.

It was so good to see Bishop John Kinney who was able to participate in both the Vespers and the Installation—he received a standing ovation at Vespers and two standing ovations at the Installation. Bishop Kinney is still at St. Benedict Center for rehab, but expects to be discharged to his apartment next week. He thanks all of us for our prayers and asks that we continue to hold him in prayer for healing.
The prayer on the back of Bishop Kettler's card:
Praise to you, Lord our God, our eternal shepherd and guide. In your faithfulness, you have given to the Diocese of Saint Cloud our shepherd, Bishop Donald Kettler. Grant him the courage and strength to lead us in being Christ's heart of mercy, voice of hope and hands of justice. Help him to fill our minds and hearts with the truth of the Gospel, the power of the sacraments and the desire to build up your holy Church. Grant this and all our prayers through Christ our Lord. Amen.