Last year, on Give to the Max Day, over $16,000 was raised to support the mission and ministries of the Franciscan Sisters. Thank you! We're participating again this year,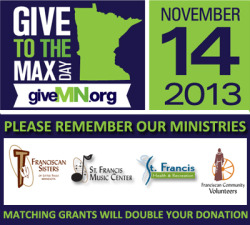 using the opportunity to raise funds for our ministries and outreach to youth. You might be surprised by all the ways the Franciscan Sisters serve and minister to young people:
Training for teen missionaries
Catechesis for immigrant and migrant communities
St. Francis Music Center and its URock summer camp, Keyboard Festival, gymnastics and dance classes, music lessons, orchestras and mentoring program
Swimming lessons at St. Francis Health and Recreation Center
Franciscan Girls Camp
Green Fair Folk Festival with games, crafts and activities for kids
Garden-to-Cafeteria, the organic gardening project between FSLF and local high school students
We've secured $10,000 in matching funds and set a one-day fundraising goal of $20,000. For your convenience, you can schedule your donation for Give to the Max Day now. Scheduled donations also qualify for the incentives and prizes above.
Thank you for supporting the Franciscan Sisters! Be assured of our grateful prayers.
Click here to schedule you donation now for Give to the Max Day on November 14: http://bit.ly/19gNY8C