Sister Mary Judine (Rosemary) Cassidy, 87, died on October 25, 2013, at St. Francis Convent, Little Falls, Minn.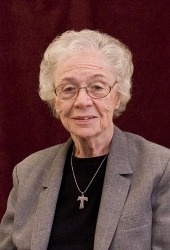 A Mass of Christian Burial will take place at St. Francis Convent on Saturday, November 2, at 11 a.m. Friends may call at St. Francis Convent on Friday, November 1, from 4-8:30 p.m., with a Franciscan Prayer Service at 7 p.m., and from 8:30 a.m. until the time of the funeral on Saturday, at 11 a.m. Arrangements are by Shelley Funeral Chapel, Little Falls.
Sister Judine was born on November 18, 1925, in Helena, Mont. She was the first of four children born to the late Francis and Rose (Braun) Cassidy. She was accepted as a Franciscan Sister of Little Falls, Minn., on August 12, 1943. She made her first profession of vows on August 12, 1945, and final vows on August 12, 1948. She was a Franciscan Sister for 70 years.
Sister Judine was a warm-hearted woman, with a quick wit and a searching mind. She walked the extra mile for anyone who came to her in need. She had a great sense of responsibility coupled with the idiosyncrasy of procrastination that caused her to burn a lot of midnight oil in meeting deadlines. She found working with youth rewarding and enjoyable and was proud of the part she played in the growth of the many young women. As the last principal of St. Francis High School, Sister Judine found the process of closing the school in 1977 very difficult.
When she celebrated her golden jubilee as a Franciscan Sister she said, "I have a great appreciation for my Franciscan Community which always has had a forward look as it participates in the mission of the Catholic Church. It has afforded me countless opportunities while following Christ in the spirit of Francis and Clare in simplicity of life and a love of creation."
Sister Judine earned a bachelor's degree from the College of St. Teresa, Winona, and two master's degrees from St. Thomas University, St. Paul.
Sister Judine ministered as a secondary teacher and principal of St. Francis High School, assistant minister for the Franciscan Sisters of Little Falls, counselor and director of guidance. She served in Little Falls, Minn., and Brooklyn and Staten Island, N.Y.
Survivors include her brothers James (Betty), Glendora, Calif.; Robert (Rose Marie), Eugene, Oreg.; Thomas (Annette), Menifee, Calif.; nieces, nephews and her Franciscan Community.
Donations to Franciscan Sisters Ministries preferred for the Sister Judine Cassidy Scholarship Fund.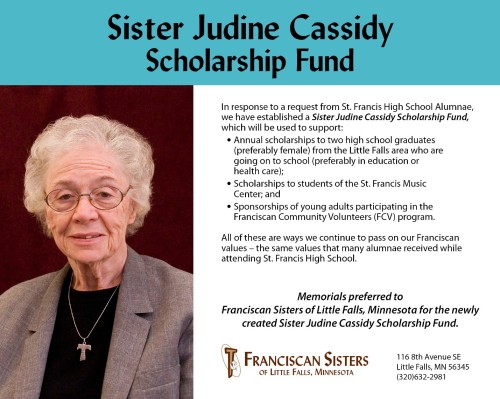 A Time to Remember