Sister Mary Sylvia (Emily) Schik, 92, died on October 25, 2013, at St. Francis Convent, Little Falls, Minn.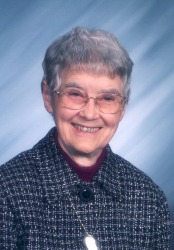 A Mass of Christian Burial will take place at St. Francis Convent on Monday, October 28, at 11 a.m. Friends may call at St. Francis Convent on Sunday, October 27, from 4-8:30 p.m. with a Franciscan Prayer Service at 7 p.m., and from 8:30 a.m. until the time of the funeral on Monday, October 28, at 11 a.m. Arrangements are by Shelley Funeral Chapel, Little Falls.
Sister M. Sylvia was born on December 26, 1920, in Butler, Minn. She was the sixth of 11 children born to Victor and Anna (Hendrickx) Schik. She was accepted as a Franciscan Sister of Little Falls, Minnesota, on August 12, 1937. She made first profession on August 12, 1939, and final vows on August 12, 1942. She was a Franciscan Sister for 76 years.
Sister M. Sylvia was a precise, careful worker who had a mind for detail and beauty. At the time of her Diamond Jubilee she said, "Life for me has been a priceless and precious gift. Religious life is the pearl of great price with payments due every day--the call comes every day. In the past 60 years, I have been up to the mountaintop where it seemed so easy to see, feel and touch God. However, my best learned lessons were taught in the dark, quiet and peaceful depths of a 'hidden cave' where His whisperings can only be heard in silence. Each day God has blessed me with gifts too numerous to mention. My response comes from a heart full of gratitude, Yahweh, the Faithful One continues to challenge, delight and allure me as I daily ask Him to transform my being into the image of Himself."
Sister M. Sylvia studied at St. Clare College, Milwaukee, Wis.; interned at St. John's Hospital, Springfield, Ill., and was certified as a laboratory technician; studied at St. Gabriel's Hospital, Little Falls, and was certified as an X-ray technician; studied by mail through Famous Artist's School, Westport, Conn., and received a Certificate of Completion.
She ministered as a laboratory and X-ray technician, medical records assistant, library assistant, artist, art and craft teacher and religion teacher. She served in Darlington and Dodgeville, Wis.; Alexandria, Breckenridge, Onamia, Brainerd and Perham, Minn.
Sister M. Sylvia was preceded in death by siblings: Peter, Brother Anton, OSC, Joseph, Mary Jo, Louis, Henry, Margaret Severson, Sister Mary Baptista, OSF, and Sister Mary Susan, OSF. Survivors include: John (Mary Lou), Minneapolis and sister-in-law Delores; nieces and nephews and her Franciscan Community.
Donations to Franciscan Sisters Ministries preferred.