Sister Jeanne (Genevieve E.) Winter, 93, died on September 28, 2013, at St. Francis Convent, Little Falls, Minn.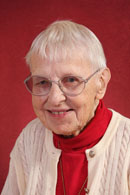 A Mass of Christian Burial will take place at St. Francis Convent on Wednesday, October 2, at 11 a.m. Friends may call at St. Francis Convent on October 1, from 4-8:30 p.m., with a Franciscan Prayer Service at 7 p.m. and from 8:30 a.m. until the time of the funeral on October 2. Arrangements are by Shelley Funeral Chapel, Little Falls.
Sister Jeanne was born on March 11, 1920, in Greenwald Minn. She was the last of 15 children born to the late Michael and Elizabeth (Hansen) Winter. She was accepted as a Franciscan Sister of Little Falls, Minnesota, on August 12, 1941. She made her first profession of vows on August 12, 1943, and final vows on August 12, 1946. She was a Franciscan Sister for 72 years
Sister Jeanne was a wholesome and energetic person. She was interested in planting, picking and canning the summer's produce, a true farmer's daughter. She was an excellent community person who showed concern for each person, volunteered to help wherever she was able, never took things for granted, was grateful for all that has been and hopeful for the future. As long as she was able to drive, Sister Jeanne would volunteer to drive to wakes and funerals. Sisters knew that she would never turn down a sister who needed a ride to shop or visit a family member. She loved to crochet and knit. She was one of the last few sisters to practice the art of tatting. She also loved to play cribbage; she and Sister Mary Lou Eltgroth played cribbage over the noon hour for several years. Sister Jeanne was known for her special greeting cards using feathers.
Sister Jeanne became a registered nurse at St. Gabriel's School of Nursing, Little Falls. She ministered as a staff nurse, supervisor, cancer nurse consultant, and director of nurses at various times from 1944-1984. She served in Little Falls, Perham, Breckenridge, Sauk Centre, Minn.; and Dodgeville, Cudahy, Milwaukee and Campbellsport, Wis. During her retirement years she was a massage therapist at St. Francis Center, Little Falls.
Sister Jeanne was preceded in death by her parents and siblings: Victor I, Aloys, Genevieve, Beata Vail, Erwin, Sister Francis, OSF, Gerard, Regina Vail, Edwin, Leander, Gerhardt, Delphine, Alfred and Victor II. Survivors include nieces, nephews and her Franciscan Community
Donations to Franciscan Sisters Ministries preferred.