The Franciscan Sisters of Little Falls are delighted to share the following: The St. Cloud Diocese has announced that Donald Kettler,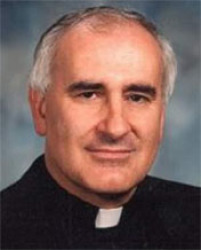 of Fairbanks, Alaska, has been named Bishop of the Diocese of St. Cloud effective November 7, according to Jane Marrin, spokeswoman for the St. Cloud Diocese. Kettler, who is 69, has been the Bishop of Fairbanks since 2002, and will replace current Bishop John F. Kinney, who has served the St. Cloud Diocese since July 6, 1995.


Kettler has numerous Minnesota ties. He was born in Minneapolis and graduated from St. John's University and the seminary at Collegeville. He was a priest in Sioux Falls, S. Dak., from 1970-1979 and worked in the Sioux Falls Diocese on and off from 1970-2000, working in the diocesan offices and in a number of parishes.
Kinney, who is 76, announced his retirement in June 2012 and has continued to serve while the Vatican works on a replacement. Kinney was ordained as an auxiliary bishop of St. Paul and Minneapolis in 1977. He served as Bishop of Bismarck, N. Dak., from 1982-1995.