Sister Mary Kathleen (Catherine) Kelly, 94, died on September 14, 2013, at St. Francis Convent, Little Falls, Minn.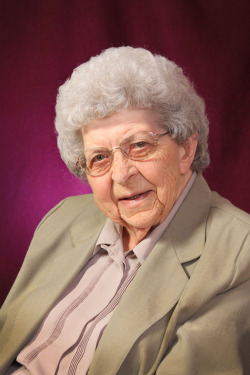 A Mass of Christian Burial will take place at St. Francis Convent on Wednesday, September 18, at 11 a.m. Friends may call at St. Francis Convent on Tuesday, September 17, from 4:30-8:30 p.m., with a Franciscan Prayer Service at 7 p.m., and from 8:30 a.m. until the time of the funeral on September 18, at 11 a.m. Arrangements are by Emblom Brenny Funeral Service, Little Falls.
Sister Kathleen was born on January 9, 1919, in Leaf Valley, Minn. She was the second of 10 children born to the late Mike and Laura (Kapphahn) Kelly. She was accepted as a Franciscan Sister of Little Falls, Minnesota, on August 12, 1942. She made her first profession of vows on August 12, 1944, and final vows on August 12, 1947. She was a Franciscan Sister for 71 years.
Sister Kathleen had the humor and quick wit of a typical Irish person. She had a wide range of interests, one being her great love of baseball. She was knowledgeable on a wide arrange of topics and was often sought after for various committee work that she accepted with enthusiasm and hard work. She could cut to the heart of the matter under consideration in a quiet, unassuming way. She was the kind of person who would accomplish a lot of work with no fan-fare. As the director of the Morrison County Food Shelf, she assisted many of the poor of the area. She helped many people who fell between the cracks of other programs for the poor. Her days were long, her concern sincere and her generosity was unlimited.
Sister Kathleen received a Bachelor's degree from the College of St. Scholastica, Duluth, and a Masters's degree from Marquette University, Milwaukee, Wis. She also studied at St. Louis University, St. Louis, Mo.; University of Notre Dame, Notre Dame, Ind.; and St. Bonaventure University, St. Bonaventure, N.Y.
Sister Kathleen ministered as a teacher, professor, instructor of nurses, social worker, religious consultant, justice coordinator, pastoral minister, marriage counselor, lecturer and campus minister. She served on many boards and committees in her religious, civic and diocesan communities, including the Catholic Charities Board of the Diocese of St. Cloud. She served in Little Falls, Morris, Fergus Falls, Sauk Centre, St. Cloud, Crookston, Winona and Sauk Rapids, Minn.; LaCrosse, Wis.; and was part of the faculty of theology and pastoral care at the Catholic University of America in Washington, D.C., and served as Campus Minister in Newman Center at the University of Cincinnati in Cincinnati, Ohio. Sister Kathleen received WCCO Good Neighbor Award, recognizing her work with the Morrison County Food Shelf. She was also the recipient of the Mayor's Pride Award for the city of Little Falls.
Sister Kathleen was preceded in death by siblings: Winifred Glatzel, Mark, Mary Spielmann, Michael, Warren and Austin. Survivors include siblings: Patricia Good, Belen, N. Mex.; Lorean (Elmer) Reber, St. Joseph; Jerome (Sharon), Buffalo; Sisters in-law Rosalinda Kelly and Marion Kelly; nieces, nephews and her Franciscan Community.
Donations to Franciscan Sisters Ministries preferred.