Sisters in Formation
---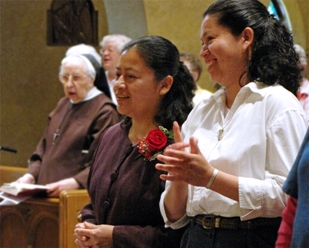 Meet Sisters Maria Isabel Berrones (L) and Aurora Tovar (R)
Sister Aurora
I grew up in Mesquite, Mexico, a small rural village of about 220 people. My father still lives there where he works in agriculture with the help of my brothers, and where he administrates a cooperative. I am an only daughter; I have four brothers.

My parents were very faith filled people. Since my early teens, I had been very active in the various ministries in my church: catechist, sacramental preparation, youth director and music coordinator. Scripture studies and participating in religious devotions and retreats have always been very important for my life.

I first became acquainted with the Franciscan Sisters when they began ministry in my parish in San Rafael, Mexico, in 2003. As I worked with them, I was inspired by their spirit of prayer and generosity, and especially how they served the poor. More and more, I felt a call to their way of life, so I began living with the Sisters to experience their life and to further discern, which led me to join them in 2007.

After I completed my novitiate, I pronounced my first vows on June 13, 2010. Since then, I have been living in our community of four sisters in Monterrey, Nuevo Leon, Mexico, where I am doing my university studies, working towards earning a bachelor's degree in educational psychology. Praying together, living life in community and sharing the Franciscan spirit of joy brings me so much happiness.
Sister Maria Isabel
I was born in Gómez Farías, Tamaulipas, Mexico, in a family of seven sisters and two brothers. My parents, Pablo and Bartolo, grew up in this town and continue to make their home there. We did not have a priest nor a parish until I was 18 years old, but my parents passed on to me a firm faith and an appreciation of the sacraments, the values of service, respect, truth, solidarity, and family.

Because of this, even as a child, I always found joy in serving others and helping those in need and shared my life, my faith, and my experience of God's love with others. This is what brought me to make the decision to consecrate my life as a religious missionary.

I had heard of the Franciscan Sisters of Little Falls, Minnesota, and their life and mission in the parish of San Rafael, Nuevo Leon, Mexico. I felt a very strong call from God to join them. I became a postulant on October 9, 2008.

On the feast of Franciscan Saint Anthony of Padua, June 13, 2009, I was received into the novitiate. During mass in Sacred Heart Chapel, St. Francis Convent, Little Falls, MN, Sister Mary Obowa, Community Minister, received me in the name of my Franciscan community, with these words: "I do receive you, Isabel...knowing that God's faithful love and the support of your Sisters in community will be with you in your daily endeavor to follow this call from God." I was very touched when the Sisters sang the Blessing of St. Francis over me.

On June 13, 2011, I professed my first vows. I am now living with our community of Sisters in Monterrey, Nuevo Leon, Mexico, where I am studying to obtain a degree in social work and human development in preparation for my future ministry with the Sisters.

To live in a Franciscan community is to learn to live joyfully, simply, and with humility in service and in community. I give thanks to God for my Franciscan community, for the life and ministry of the Sisters, and I am also grateful to the Sisters for giving me this opportunity to walk with them.