Sister Elizabeth Weier
---
Sister Siena values Franciscan simplicity and has a great sense of humor. She believes life is good and makes every effort to live it to the fullest.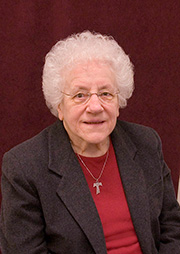 Through the years Sister Siena has ministered in therapeutic recreation, consulting, and administration in long-term health care in Minnesota, Arizona, South Dakota, and California. She also served on Nursing Home Administrator Licensing Boards in South Dakota and California. In 1977, she received the State of Arizona's Therapeutic Recreation Innovative Programming Award. In 1978 her leadership in Therapeutic Recreation in Arizona earned the Outstanding Leadership Award. Sister Siena served as the State of Arizona's Therapeutic Recreation Section President and was involved in coordinating numerous educational workshops in Arizona and Minnesota.
In more recent years, Sister Siena has served as the chairperson for the Los Angeles region for the Catholic Association Homes and Services for Aging Services, and also served on the House of Delegates for the American Association of Homes and Services for the Aging. Presently she is the Interim Administrator at Grace Home in Livingston, California.
Sister Siena is very involved in many activities beyond her daily work. She is a Communion Minister, a parish lector and plays cards. She is the Recording Secretary for AAUW, active with the Rotary Club, a Kiwanis member, attends Bible reading groups, is involved in the RCIA Program, does some writing, enjoys the computer, music, and dancing.
Sister Siena values Franciscan simplicity and has a great sense of humor. She believes life is good and makes every effort to live it to the fullest. Both her wonderful experiences and her difficult ones have helped her become who she is today. She states "I feel each day finds me a 'new person', always different from what I was yesterday, and always growing toward something fresh and vibrant tomorrow. It is all about our attitude and how we deal with what life sends us."