Our Franciscan community continues to grow
---
Saint Francis heard Christ speak to him, "Francis, go rebuild my house for you can see it is falling into ruin." Francis took the words literally and began repairing broken down churches. Gradually, the Spirit led Francis to understand that it was the spiritual life of the universal church that needed rebuilding.
Today the work and mission of the Franciscan Sisters is enhanced by the 260 Franciscan Associates, 11 of whom were welcomed into the Franciscan Community recently on Associate Commitment Sunday. They "desire to be sister and brother to all of God's people and creatures and who want to make the world a more loving, just and peaceful community."
Meet our newest Franciscan Associates or Learn about becoming an Associate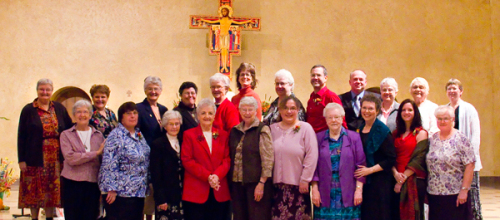 Our commitment to help end human trafficking
---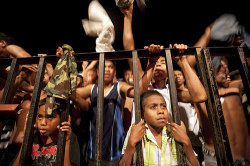 Human trafficking – it's beyond most people's comprehension, yet it affects people in our community, as well as across the world.

"According to the U.S. State Department, there are over 12 million adult and child slaves worldwide, 56% of whom are women and girls. After drug trafficking, trafficking of human beings is tied with arms trafficking as the second largest criminal industry in the world. It is also the fastest growing. Traffickers generate billions of dollars in profits every year while victimizing millions of people around the globe."

As Franciscan Sisters, we uphold the dignity of each person. Human trafficking is a criminal act that violates human rights and exploits innocent people. At this year's Franciscan Federation conference, the assembly of Franciscans responded with a written resolution.

Read the full article and view additional resources
Give to the Max Day - Thursday Nov. 15th
---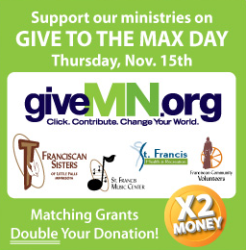 November signals the end of the harvest, the time when the earth goes to sleep in preparation for the next growing season, months ahead. The days are shorter and often seem darker…but not so in the world of fundraising!

We are pleased to announce that we have secured $8,500 in matching grants, which will DOUBLE YOUR DONATION.

While GiveMN promotes online giving and securely receives donations every day of the year, in November it sponsors Give to the Max Day, a one-day online giving campaign that encourages Minnesotans to give to their favorite nonprofits. Give to the Max Day is no small thing. In 2011 more than 47,000 individual donors logged on to GiveMN.org and gave more than $13 million to nearly 4,000 Minnesota charities and nonprofits in that one 24-hour time frame.

Last year was the first time the Franciscan Sisters participated in Give to the Max Day. We were astounded at our success. On Give to the Max Day 2011, we raised over $17,000 to support our mission and ministries. Part of our success was a matching grant of $7,500 from several longtime, loyal donors. How grateful we were!

Time and time again we find that when we ask, our donors respond. So, please join us on November 15 with an online donation to support the FSLF mission and ministries of the Franciscan Sisters. Join the Great Minnesota Give Together!
Upcoming Events
---
Wednesday, Oct 31 - Friday, Nov 2
Red Cross Blood Drive
St. Francis Convent (St. Francis Hall), Little Falls
Thursday, Nov 1: 6 to 7:00 PM
Taize Prayer
Sacred Heart Chapel, St. Francis Convent
Saturday, Nov 3: 4:30 to 7:00 PM
Franciscan Harvest Supper
St. Francis Hall, Little Falls, MN
Saturday, Nov 10: 7 to 9:00 PM
The Rose Ensemble Performance
Sacred Heart Chapel, St. Francis Convent
Sunday, Nov 11: 9:00 AM to 1:00 PM
Belgian Waffle Fundraiser
St. Ignatius Church, Annandale
Thursday, Nov 15
Give to the Max Day!
GiveMN.org
Thursday, Nov 15: 6 to 7:00 PM
Breathing Meditation and Lectio Divina
Gathering Space at St. Francis Convent
Friday, Nov 23: 11:00 AM to 12:00 PM
Bilingual Liturgy
Sacred Heart Chapel, Little Falls, MN