Contemplation and Prayer
---
Franciscan prayer is contemplative. As one of the core Franciscan values, contemplation means opening one's heart and mind to the presence and gift of God directly and in all creation. In turn, our being - body, mind and soul-gives thanks and praise to our loving, good, and beautiful God.

We engage in a daily practice of personal and communal prayer and celebration of the Eucharist. A spirit of contemplation influences all that we do and all that we are. For opportunities to join us in contemplation and prayer visit our Spiritual Journey page.

In addition you may enjoy visiting our Motherhouse chapel and join us there in praying the office and celebrating Eucharist.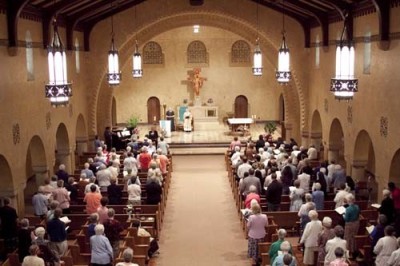 Please join us for Mass and prayer in Sacred Heart Chapel.

This worship space was built in 1943. A Romanesque influence can be seen in its pillars, rounded arches and the symbolism of the stained glass windows. The architecture - with its miniature angels, tower and raftered ceiling - was influenced by the style of mission chapels erected by a pioneer Franciscan priest in Mexico and California.
View Brochure