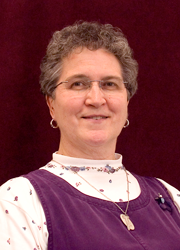 Sister Charlene Grossman is a free-spirited person with a good sense of humor. She is able to laugh, to joke at appropriate times, to tease with ease and light up situations when they become tense or intense. She appreciates this Grossman gift and uses it well within community and in her ministry. She enjoys a good time and brings laughter and fun to group activities, even to the bedside of the suffering and/or injured. She is a compassionate person, a gift from her parents, and cherishes this strength as a valuable asset in her ministry.
Her first contact with the Franciscan Sisters of Little Falls was through the catechetical mission they had in Browns Valley and Beardsley, MN. The Sisters came to Chokio on Saturdays and taught the children religion. Charlene remembers their kindness and giving the children statues and holy cards a gifts. Charlene also has two first cousins who are Sisters of St. Joseph of Caronelet in St. Paul, MN. They, too, inspired her as she watched them during her growing up years. She knew early in high school that she wanted to be a Sister; and she made weekend retreats in Little Falls. During her high school years, Charlene did a lot of baby-sitting for 25 cents an hour. She saved her money so she could pay her way to St. Francis Convent. Since the Grossmans lived nine miles from Chokio, she was unable to participate in many school activities since they had only one vehicle and couldn't afford to make many trips back and forth. Charlene had leading roles in both her junior and senior class plays, and during those times, she stayed overnight in town with friends.
Charlene entered St. Francis Convent on August 22, 1966, was accepted into the novitiate and given the title, "Sister," on May 31, 1967, and made her first vows on August 12, 1969.
Sister Char Grossman works with State Operated Services at Community Addiction Recovery Enterprise in Fergus Falls. She began employment July 1994 at the former Regional Treatment Center in its substance abuse/addiction programs. Sister Char is the chaplain for Community Addiction Recovery Enterprise and is responsible for facilitating the Spirituality, Grief and Forgiveness Groups with women and men. There are often requests for a one-to-one session, Bible readings, rosary or someone to listen—whatever brings a sense of joy and peace to the individual. Occasionally Sister Char makes an individual visit to the Valley Lake Boy's Home in Breckenridge, a home for young boys with behavioral and addiction issues, where she works with a licensed addiction counselor. She has opportunities for prayer/reflection and Communion with those who request it, and she conducts a service on Thanksgiving, Christmas and Good Friday for whoever wishes to attend.