Sister Callista Robinson, president of the National Black Sisters' Conference, shared this statement:
---
On October 12, four women and one man made their commitment to the Franciscan Sister and Associate Relationship at St. Francis Convent, Little Falls, Minnesota.
| | |
| --- | --- |
| Grow deeper with us in the mystery of God and the mystery of who we are in relationship to God. | |
| | |
| | |

Contemplation means opening one's heart and mind to the presence and gift of God.

 

 
 
 

| | |
| --- | --- |
| We recognize that absolutely everything is a gift from God and as such we are owners of nothing. |   |
|   |   |

| | |
| --- | --- |
| We serve those who are poor and marginalized, in need of healing, and who hunger for God. |   |
|   |   |

We welcome you to walk with us, living the Gospel joyfully and courageously.

 
 
 
 
---
---
---
Join Us for Mass:
Monday – Friday at 11:00 am (Mass)
Saturday at 11:00 am (Communion Service)
Sunday at 8:30 am (Mass)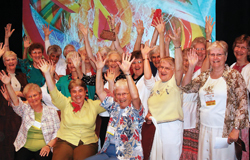 Who We Are
We are a Roman Catholic congregation,
dedicated to living the Gospel joyfully through
the Franciscan values of conversion,
contemplation, poverty and minority.
We are committed to living simply while
working courageously for the dignity and
well-being of all God's creation.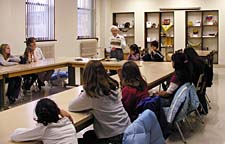 What We Do
We are committed to a life of prayer,
simple living and service to those in need.
Our work and ministries enhance
spiritual life, inspire personal dignity,
foster social justice and model the joy,
friendship and simplicity
of our Franciscan way of life.